How to Choose Best Fleet Management Software: A Complete Guide
Fleet management software (FMS) is a digital solution for real-time tracking, scheduling, dispatching, fuel management, and other fleet operations. Choosing the best FMS involves identifying suitable and user-friendly software, checking overall performance, considering ROI, reliability, security, and customer service. Essential features of FMS include online operations management, load optimization, GPS tracking, route planning, service and maintenance tracking, fuel management, employee monitoring, timely alerts, report cards, and data analysis.
FMS helps reduce errors, increase efficiency, and streamline fleet operations, making it an essential tool for industries with two or more fleets, such as logistics, heavy-duty vehicles, taxi firms, and shipping.

Do you own a fleet business?
Are you in the middle of searching for perfect and authentic Fleet management software for your brand?
Fleet management solution is a perfect solution for real-time tracking from scheduling to dispatching, identifying the shortest routes, fuel management, and time-saving process for all your fleet operations. 
Before, the traditional fleet operations were carried out manually to record the trip events and vehicle details in hard copies. With rising digitalization, the popularity of Software as service and mobile technology has given a helping hand for fleet owners to reduce errors and risk in the business. 
The need for FMS applies to various industries like heavy-duty vehicles, shipping, taxi firms, logistics, and small-scale industries that have two or more fleets to carry out the trip process smoothly. 
The expectation in buying an FMS software is to reduce the excessive workload of humans and ease the process through automation in fleet operations like reducing costs and streamlining the workflow to achieve the management goals and operations.
6 Steps to Find the Best Fleet Management Software
Choosing Fleet Management Software is a bit tedious task for your transportation but the below-mentioned things will help you before buying FMS software.
Step 1: Identifying Suitable Software
Selecting a suitable software that solves your problem is always right for your business. The High-quality software with customized options is useful to meet your fleet requirements which helps you to feel comfortable running the daily operations.
Step 2: Look Out for User-friendly software
If you're working with minimum fleet operations and opting a software with high levels of complexity, it could lead to various problems. It is wise to opt for a User-friendly product that tells how well you can use it conveniently without facing any complex issues to help your work journey be smooth and effective.
Step 3: Check for overall performance
A fleet manager's job is to do scheduling, receiving, dispatching, tracking, fleet and employee management, and overviewing the complete fleet operations. In the same way, selecting quality software and obtaining centralized access alone won't give a steady functionality of operations, analyzing software that has all-in-one functions is important.
Step 4: Pricing/ Return on Investment
Increasing the budget for good quality software is a witty thing rather than buying software that falls within your budget. It makes you fall into the trap by considering low-budget software.
Before purchasing, go through the case studies, reviews, trends and get an idea of which company has good ROI. Do not hesitate to buy the best quality FMS at a high price that suits your company to get a good Return on Investment.
Step 5: Reliability and Security
To take your brand to the next level, the software needs to travel for the long-term and have proper security without disrupting the workflow to ensure the growth of the business.
Changing the software periodically or facing the issue due to a technical glitch might be frustrating. Always have an eye on the reliability of the software and reputation of the company.
Good customer service makes the business experience engaging and successful. There are some times that your software might run into problems or requires service. The customer service should give a quick response and an easy resolution for much-needed hours.
11 features for Choosing a Good Fleet Management Software
There are possibilities for errors that can occur during the operations and many mistakes may happen in the manually written data with the Pre-existing types of fleet management systems or solutions that are available in the market.
1.Online Managing Operations
Whether it is a small fleet or large fleet operations, every operation cannot be done manually. Choosing modern software tools based on your fleet operations can be carried out entirely with intense surveillance through online mode right from scheduling the work to receiving delivery details.
To plot a perfect load plan & load time for a vehicle, the factors such as volume, weight, and dimensions need to be obtained. Planning with those factors gives access to the shipment and delivery details with perfection and also helps to stay ahead in the flow of operations.
The purpose of optimizing routes is for timely delivery, saving fuel cost, avoiding heavy traffic route regions, and minimizing the maintenance cost of the vehicle. It's best to decide on software with such customization for planning the easiest route for every trip.
For every transportation regular service & vehicle maintenance has to be given so that it can reduce the vehicle downtime. By updating the vehicle data to the centralized system, it gives notification automatically whenever the vehicle needs to be renewed or the warranty expires. 
The consumption of fuel is a big deal when it comes to larger fleet operations and due to market fluctuations. It can be dealt with by choosing the best FMS tools.
Observing the employee activities and behavior like harsh driving, speed violations, vehicle idling makes it easy to track to prevent accidents by accessing the system. 
It is great to have timely alerts for each operation that can be conveyed to vendors regarding vehicle information, driving information, and other facts. Whenever a large fleet vehicle faces faulty operation it consumes more time to repair and faces downtime.
Generating report cards for every trip will help in viewing the performance of the employee, vehicle maintenance, operational expenses, and much more to make quick decisions when something goes out of control.
Every data is precious when evaluating the faults, a remote diagnostic is useful  for prioritizing the work when multiple problems arise at the same time.
The early warning signs help to determine the vehicle parts that could lead to mechanical failure in the future. By reviewing the predictive analysis of the live data, its  patterns help to take actions prior rather than facing failure in the middle of the trip. This feature is still in the development stage as it comes under vehicle prognostics topic.
Why do you need to choose FleetOS for your business?
Most FMS software doesn't try to solve problems, instead, it manages the operations and faces shortcomings while planning out their functions with poor workforce management and they do not do well in their expenses management.
FleetOS acts as an administrator app to view and analyze the entire operation that takes place in the fleet. In FleetOS, for every trip fleet managers can generate Trip P&L and track expenses in an automated way that uplifts your business on the road to success. 
Along with FleetOS, DRS APP (Driver App) software helps to assist employees to deliver the goods at the given destination. It is a two-way user-friendly app to communicate between the fleet owner and the driver regarding loading & unloading goods, refueling, updating toll charges. For every trip, each and every action is detailed in this App to ensure work efficiency.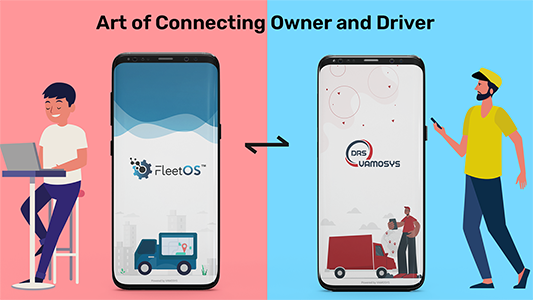 Choosing FleetOS along with DRS APP comes with innovative solutions for all your fleet operation systems, plans out well by following a holistic systematic approach through online operations for every issue with effective workforce & employee management.