The Benefits Of Driver Behavior Tracking System
The blog discusses the benefits of using video telematics for tracking driver behavior in fleet management. This system allows fleet managers to monitor their drivers' behavior and driving styles, which can help in providing proper training, minimizing accidents, improving productivity, and creating a safe workplace culture. Additionally, video telematics can provide extra security through features like dashcams, 24/7 visibility over fleets, and alerts for potential dangers like fatigue, distraction, and theft. Overall, driver behavior tracking can lead to improved communication between drivers and fleet operators, resulting in significant benefits for fleet businesses.
We have heard a lot more things about the driver management system. Still, people are confused with the terms driver management system and driver behavior monitoring system; these terms have differences. 
The driver management system helps drivers move in an organized way and allows you to track the real-time telematics data of the trip. In addition, the driver behavior monitoring system helps to monitor the driver behavior like driving style, distraction driving, etc; throughout the entire trip. Also, the driver behavior monitoring system is a part of the driver management system.  
Drivers face a lot of problems on the roads; it may be climatic conditions, their driving style, distracted driving, fake allegations, natural disasters, and many more. The driver monitoring system came to light while addressing the driver issues.
For a fleet operator, it is really important to take responsibility for your drivers and their behavior. So how are we going to monitor driver behavior? One of the best ways to monitor your driver's driving behavior is to make use of Video Telematics.  
What is video telematics? Video telematics is a technology used in Dashcams which is mainly used to monitor and manage your driver's driving behavior throughout the trip. 
The dashcams are small camera devices boarded to the windshield or dashboard of a vehicle, which record the incidents that happen or provide you the 24*7 live stream of the vehicle. 
Now, let's know how the driver behavior monitoring system benefits a fleet manager or a fleet owner?   
1. Useful for the management to provide proper training to the drivers
Driving style stays a solid, constant problem for fleet managers and fleet owners. Dangerous driving style brings huge losses to both the drivers and the organization. So how is monitoring driver behavior going to help you in providing driver training?
Building a driver training program has several steps to be followed.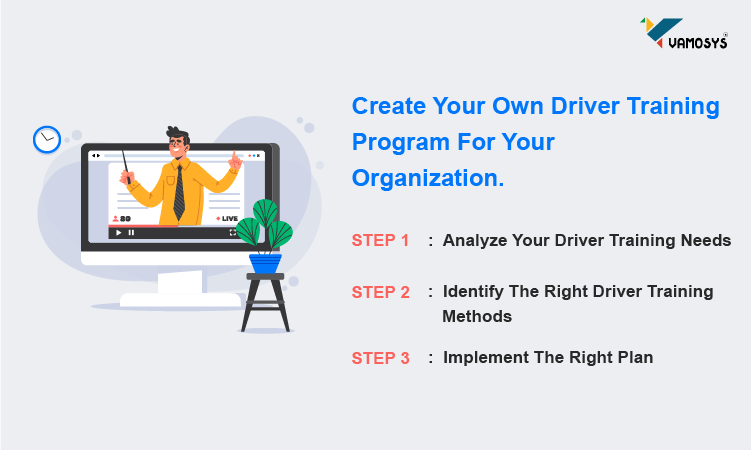 STEP 1: Analyze Your Driver Training Needs
STEP 2: Identify The Right Driver Training Methods
STEP 3: Implement The Right Plan
The first step to provide the right training for your driver is identifying the driver's performance. The usage of telematics is one of the productive ways to identify the driver's performance. So what are all the benefits that management is going to get from providing training to drivers? 
Can minimize accidents.

You can increase the productivity of your drivers.

Drivers can easily tackle the problems they face on the road. 

You can create a culture that makes an amazing workplace. 

No internal theft activities are performed.  

Your operations work in a systematic way.  

The safety of both drivers and cargo will be improved. 
2. Drivers Value The Feedback Provided By Telematic Reports
The driver very well understands that telematics is used for security purposes more than just monitoring when you educate them. 
Drivers who know about telematics understand the importance of using them. Of course, without monitoring, the company doesn't know the driver's performance, but when the company has access to the telematics reports can even provide good training to the driving skills. 
Some drivers inappropriately drive vehicles without knowing it is inappropriate. So, when they access the telematics reports, drivers will understand their own performance and improve their driving skills. 
3. Dashcam Technology Provides Extra Security
Dashcams, an innovative video telematics device. Ensuring security is one of the vital tasks of fleet operators, that is why they choose driver monitoring system and this how do dashcams provide security.  
You will have your evidence in your pocket. 

Have 24*7 visibility over your fleet. 

The dashcam provides perfect driving alerts and instructions.

Fatigue Alert
No Face Detected Alert
Distraction Alert
Closed Eyes Alert
Yawning Alert
Smoking Alert
Phone Usage Alert, etc.

You can prevent theft activities with your fleet.

You can record if any incidents happen, even the ignition is off.

Claim your insurance benifits by using dashcam videos. 

You can have separate external cameras to view the cargo and rear view. 

You can save HD-quality videos in the cloud. 

Has 2-way communication method. 
Driver behavioral monitoring helps to provide an open way of communication between drivers and fleet operators, which brings huge benefits to your overall fleet business.