Fuel and Fuel Monitoring System: How to Stop Diesel Theft and 5 Ways to Reduce Fuel Consumption
This article covers different topics related to fuel and fuel monitoring systems, including the global fuel economy, fuel consumption and prices in India, the role of politics in fuel prices, techniques followed by drivers in diesel theft, and ways to reduce fuel consumption.
 It also explains the uses of fuel monitoring systems and various types of fuel sensors. Additionally, it discusses why fuel prices differ between countries and how taxes influence the price of diesel and petrol.
The global vehicles are predicted to triple by 2050, over 80% of vehicle economy will increase in the developing world. But, the global fuel economy will face huge difficulties
People believe that fuel prices constantly increase when crude oil prices increase and fuel price decreases when crude oil price decreases, but it declines in an extremely slow manner in the international market. That is not true or confirmed by data. Fuel prices may perform very similarly to crude oil prices. The international market is open with the same price every country, where diesel and petrol taxes are different between countries.
Topics Discussed in the article:
How to reduce fuel consumption? India is known to be the third-largest crude oil importer across countries in the year 2018. The import of crude oil in India increases by 42% from $88 bn in 2017-2018 to $125 bn in the current fiscal year ending March 2019. 
India imports 228.6 million tonnes of crude oil in the year FY 19. Iraq, Saudi, and Iran were the top 3 most extensive sources of crude oil imports into India in 2018.
| Rank | Country | Import Value |
| --- | --- | --- |
| | | |
| | | |
| | | |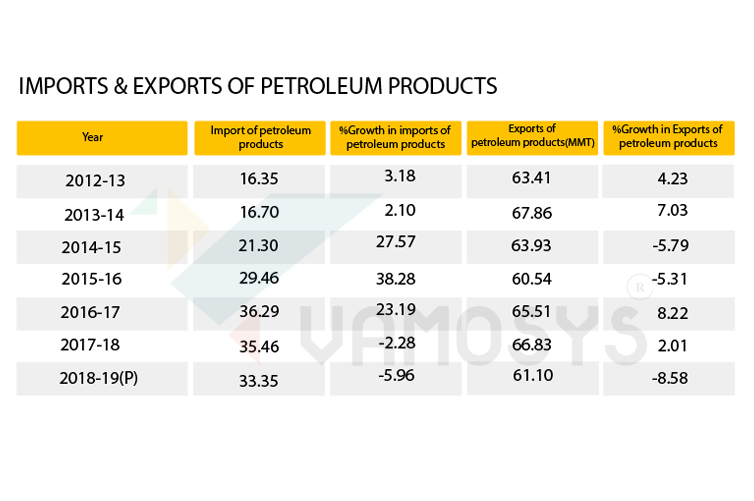 The Indian government's fuel industry goal is to be a USD 5.0 trillion economy by 2024-25. India's primary fuel demand is expected to grow at a 4.2% CAGR during 2017-2040, but India's crude oil production became -4.15% during 2018-2019. 
2.1 Why is Fuel Price High in India? 2021 Market
A fresh hike in salary is enjoyable, but not in fuel economy. September 2020 is the last month where we saw ₹0.95 falls in Chennai and ₹1.08 in Delhi fuel price. Still, we can only see constant increases in fuel price.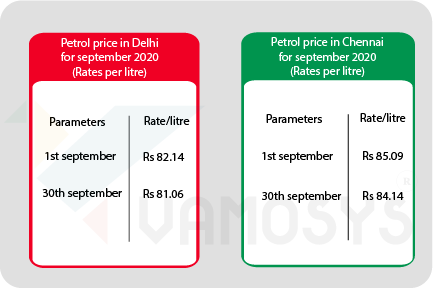 What is the reason for the high fuel price in India?
After the COVID-19 lockdown, world demands for oil are unusually high. India fulfills its 80% oil needs and demands by importing it, directly impacting the fuel market and raising India's fuel economy. 
We heard a significant line in the media and newspapers 'fuel does not come under (GST) Goods and Service Tax'. It is also considered a major reason for high fuel prices in India. Since the vast amount of revenue revolves around fuel.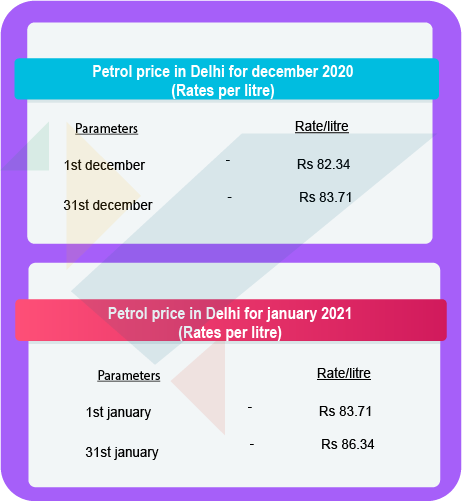 Every country has the same fuel price in the international market.  But, why are fuel prices different across the countries? Price differences across countries are due to the several taxes and agreements. 
Fuel price difference across countries is even acceptable, but why is the fuel price different between India's cities?
Not only in India, nowhere in the world fuel prices don't fall under GST. Though there is no single goods tax, it's both state and central governments' taxes for fuel. As a result, the retail price of fuel is different between Indian cities. Also, politics are considered to be a major reason for the high price of fuel in India. 
What do you think is the difference between petrol and diesel price? 
Is diesel price cheaper than petrol? 
Nowadays both petrol and diesel cost the same compared with previous years.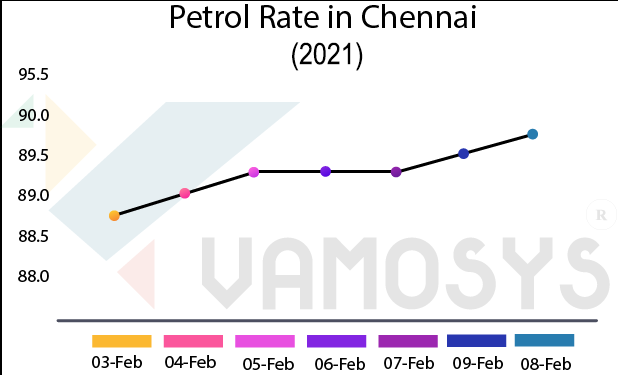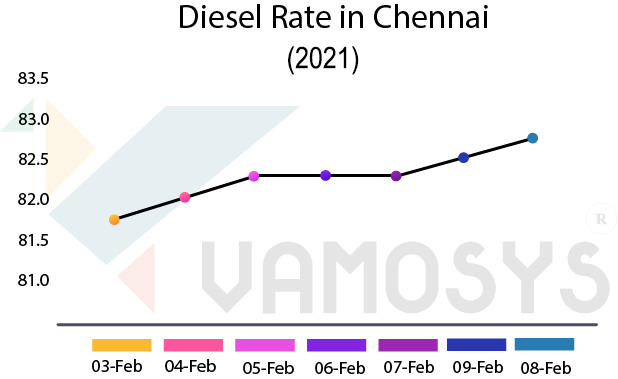 What influences diesel price? Tax! Tax! Tax!
Taxes like excise duty and the VAT makes diesel a bit cheaper than petrol. Due to higher diesel prices, the sale of diesel cars shows a highly downwards graph in recent times. According to stats, the shares of diesel car sales in the FY2017 was 40% which came down to 29% in FY2020. 
Well known verse, petrol and diesel prices will not come under (GST) Goods and Services Tax. Petrol and diesel prices vary between Indian cities and States. For example, on 29 Dec 2020, the petrol rate per liter in Chennai is Rs. 86.51, and the rate per liter in New Delhi is Rs. 83.71.
Managing and maintaining fuel expenses and fuel consumption is a challenging task. Fuel price fluctuates steadily. What is the impact of GST on fuel price?
July 1, 2017, after the introduction of GST into India, officials kept fuels like petrol, diesel, crude oil, natural gas, jet fuel out of GST 
What are the Facts we Know?
Fuel prices will get cheaper or decrease under Goods and Services Tax (GST).

'No GST for petrol and diesel.'

What are the charges and taxes added to petrol before we afford it? 

Do you know? Only 31% is the base price of petrol from the amount we pay today.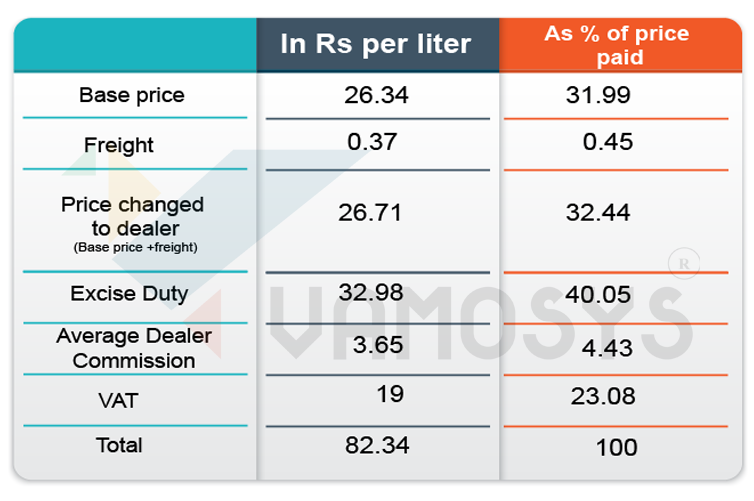 There is no pure (GST) Goods and Service Tax for petrol and diesel anywhere globally, even in India. Fuel tax is the combination of GST and value-added tax (VAT) in India, said by the officials involved with the GST implementation. 
State governments of India objecting to bringing fuel prices under GST. Involving fuel and petroleum products under Goods and Services Tax involves enormous politics.
The decision of bringing services and VAT taxes of fuel products under the GST act can only be taken by the GST Council, which has heavy political opposition from state governments.
Day-by-day increasing fuel price leads to huge expenses in the fleet business. 
How to tackle fuel consumption in trucks to minimize fuel costs in the fleet business? Below there are some tips to reduce maximum fuel consumption.
3. Role of Fuel in the Logistics Sector
We know the importance of the logistics industry. It plays a vital role in the distribution industry and revenue-producing factor. One crucial cost consumption section in logistics is attached to fuel. 
No fuel! No transportation!–No transportation! No revenue! 139 bn tonne-km of goods were transported in the year 2014. The logistics sector practices many steps to minimize fuel cost consumption, but it becomes a crucial task. Fuel only has a constantly fluctuating price, it makes a tough road to minimize fuel expenses in the logistics industry.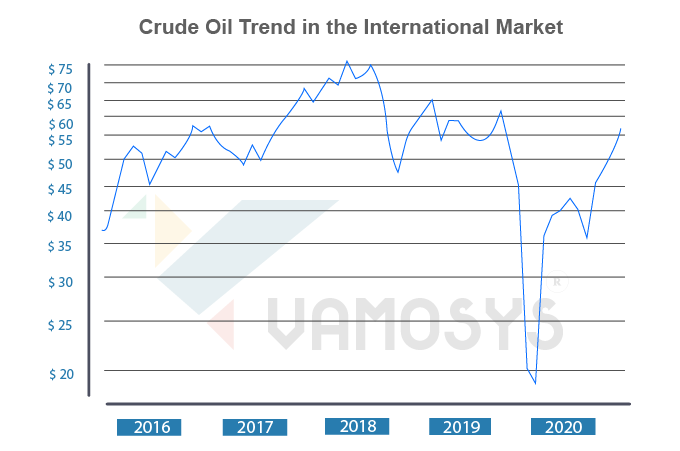 Effects of Fluctuating Fuel Price in Logistics
When fuel price increases, transporters raise the charges for the suppliers, Suppliers increase charges for the consumers. For transporters, higher fuel price leads to lower efficiency & higher expenses, and for the consumers, products are going to be sold at a higher cost. 
Logistics suppliers and companies are forced to rebuild new strategies due to shifting fuel prices for their operations to ensure a continued profit and growth. Constant increasing fuel prices will affect every aspect of transportation.
5 Ways to Reduce fuel Consumption in Commercial Vehicles
A fleet manager or fleet owner cannot estimate a complete trip with fluctuating fuel price. The fluctuating fuel price brings a massive impact on the budget. But, if a driver thinks, he can keep the account in control.
The driving habits of a driver can make an enormous difference in fuel consumption. A huge difference in fuel consumption will bring huge profits to a company.
Engine idling, a common mistake among drivers. Do you think reducing engine idling will save fuel expenses and increase efficiency?
Maybe not! But the truth is Yes!
People think engine idling is just a common factor that doesn't consume a lot of fuel in some places. But, 30 Seconds of engine idling can consume the exact amount of fuel used to restart an engine.
Consider engine idling in the red light traffic signals, while waiting or in the parking. Engine idling not only leads to higher fuel consumption but also leads to idling pollution.
Fuel monitoring system provides productive data that helps to reduce or avoid unwanted engine idling time.
2. Say No to Aggressive Driving
Road traffic and accidents tend to be major developmental issues in a country. Global Status report on Road Safety 2018 says the leading cause of death and injury on the road worldwide is more than 1.35 million, 90% of these taking place in developing countries. 
Aggressive driving is the cause of many fatal road accidents. Limiting sudden accelerations and fast braking can increase fuel efficiency. Avoiding aggressive driving can save up to 20% of fuel. 
Telematics solution can monitor driver behavior and detect aggressive driving or over speeding. By using telematics, fleet operators can send instant alerts or warning messages to drivers.
3. Optimized and Efficient Routes
Route optimization is a process of analyzing short or cost-effective routes for travel. Route optimization is an important method to reduce fuel consumption. 
A vehicle tracking system with or without a GPS device helps you point out the real-time location, but the route optimization feature moves a step forward. Consolidated route optimization features with vehicle tracking system or fleet management software help you to keep track of the climate, road, and traffic conditions. By using this feature, managers can route the vehicle according to the requirements; even they can avoid particular trips on dangerous roads. 
Do you think route optimization only provides an effective shortest route?
No, Not only that! 
Route optimization also lets you know the number of turns in your route, traffic condition, the nearest and the best route for multiple destinations. 
Analyzing and following effective and shortest routes not only increase the fuel efficiency or save operational cost & time, it mainly helps to increase transparency and improve customer satisfaction, which brings a lot of benefits to the organization. 
Have you ever taught tyres will affect fuel consumption? 
No!
Have you changed your tyres?
Maybe
Noticed any difference in fuel consumption after changing the tyres?
Tyres are determined to be one of the key factors in the fuel consumption economy. 
Can you believe that the right tyres for your vehicle can impact fuel consumption? 
The energy used by the tyres while meeting the road with full load has a significant impact. Approximately 1% of total fuel consumption in a vehicle is wasted on low-pressure tyres. Soft tyres reduce around 10% of mileage. 
There are some areas to consider while choosing or designing a tyre for fuel-efficiency. The tread and tyre casing is considered to be the main part of choosing fuel-efficient tyres.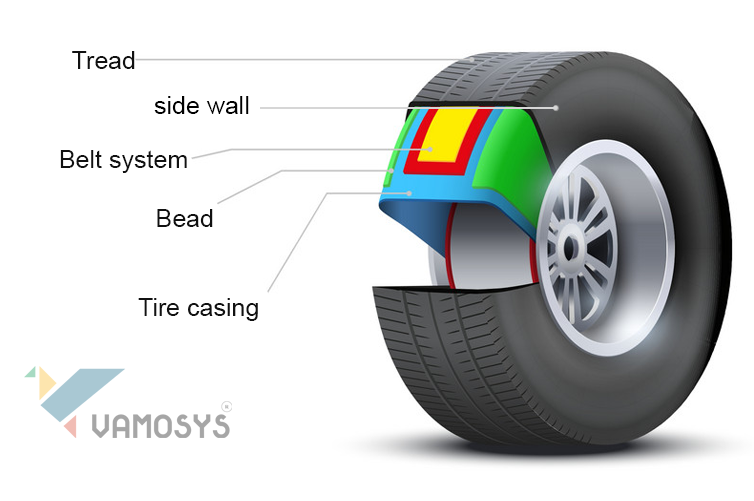 How it works, how these factors minimize fuel consumption?
Simple physics on rubber, Rolling Resistance. The amount of pressure kept on the road against the speed of your vehicle. Even U.S. research experts determined rolling resistance is the cause of 5% to 15% of fuel consumption.
It is better to improve the rolling resistance to minimize fuel consumption. How to improve the rolling resistance considering the tread and casing of a tyre can improve the rolling resistance. Generally, tread design 40% of a tyre's rolling resistance. So, considering tyre design and maintaining perfect pressure on tyres can improve fuel efficiency on the road. 
Selecting trucks according to the usage is an important factor to minimize fuel consumption. Every manufacturer is trying to design weight-less vehicles. Experts proved weight-less vehicles with the same body and engine provide higher efficiency than heavyweight vehicles.
Manufacturers are designing vehicles by using aerodynamics. Aerodynamics is nothing but the study of air motion with moving objects. According to research, 2% – 5% of fuel efficiency is minimized by roof-mounted goods or cargo boxes.
Wind is also considered to be a key source to reduce fuel consumption. An open window or open body of a truck lets the air inside and slows down the engine, decreasing fuel economy by 10%.
Choosing lightweight vehicles for some goods may workout; for some, it may not. It is essential to choose a vehicle according to goods, climatic conditions, even road routes. Analyze the vehicle size, capacity, and suitable type of vehicle.
Even selecting the right type of fuel for the vehicle is important. The major problem faced by the fleet managers, which is the right choice, either petrol or diesel engine?
TIP – Research and select the fuel engine type. Also, remember smaller engines will increase fuel economy. Consider reducing unnecessary vehicle weight, which will improve the fuel economy.
We know the oil was produced by super major corporations and one of the most extensive valued products in the market, which eat up a substantial part of a corporation's revenue. Crude oil price lowers in the international market, but what about petrol and diesel price?  Why are petrol and diesel so costly? Why is petrol called "black gold"? 
The production of oil is not just a profitable business; it also makes most countries strong. If a company produces just as much profit, it only implies one thing: the commodity also comes with a heavy price tag. People refer to oil worth gold, which continually increases. Is that the reason why people try to steal it?
Yes! The constant increasing value of the fuel is feeding fuel theft and fraud. Businesses know that they have to go to fuel for a large portion of their revenue. But what's the issue now is the fact that they're not only dealing with skyrocketing petroleum prices nowadays— they're also dealing with fuel theft.
5.1 Different Techniques Followed by the Drivers in Diesel Theft
Since oil is one of the most necessary and costly commodities, accounting for $1.7 trillion of the world's demands for market revenues, it is no wonder that petrol theft is increasing. In reality, the recent accounts have it that $133 billion in fuel is robbed every year around the globe. Diesel theft is a significant global problem. 
Over the years, it has altered or even "developed" methods of stealing petrol. Some steal it directly from the pipelines by illegally tapping and pumping the substance onto trucks and tanks. But what most fleet owners encounter regularly is blatant draining directly from the tank from the vehicle fleet itself and unlawful siphoning of oil and gasoline. Who is behind it? Not only outsiders but even staff and drivers are also involved in these activities. 
What techniques are followed to take diesel out of the tank anonymously? Brilliant methods and techniques are followed by truck drivers; excited to know how? Here they are.
1. Manipulation of Invoices and Bills
Drivers fill diesel for 90 liters but get the invoice bill from the gas station for 100 liters. Also, drivers get multiple fuel bills for different vehicles in a single fake invoice. Many drivers followed this technique because we had manual billing and provided money to drivers for fueling. 
2. Draining Fuel Directly from the Fuel Tank
One of our organization truck drivers had a trip to Bangalore from Coimbatore, and we filled the tank as per the requirement for traveling. After completing his trip, before reporting to our organization, he drained the remaining fuel directly from the fuel tank to make money out of it. 
3. Stealing from Returning Line
This is an advanced technology when it comes to stealing fuel from tanks. With the truck mechanic's help, the driver adds the T-fitting on the fuel returning the line to collect all the fuel that is supposed to return to the fuel tank.
For years, we have not been aware of this fuel theft technique. Recently we came to know from one of my business partners, where he said, "not only drivers, even truck mechanics will support and be involved in stealing.
4. Odometer Reprogramming
Drivers damage the odometer reading, which makes fleet managers unaware of the distance traveled by the vehicle. This is one of the heinous activities committed by drivers when it comes to fuel theft.
Drivers are very smart, and they follow different techniques to improve their fuel efficiency. 
Many truck drivers drive the vehicle in neutral. In this way, they save a lot of fuel, but also it has many risk factors that may lead to accidents or damage the vehicle.
Another exciting aspect is drivers show the same mileage per liter for both loaded trucks and unloaded trucks. Generally speaking, the unloaded truck should provide 6 Kms per liter, and the loaded truck should provide 4 to 4.5 km per liter. 
But drivers provide the report by saying for the entire trip (up and down), they had 4 km per liter. This is one of the most innovative ways to trick their stealing.
Truck drivers contaminate the fuel by adding low-quality fuel like white kerosene, acetylene for stealing the diesel.
In this way, they are not only looting the fuel, but it also affects our fleet trucks. Further, we need to spend more on fleet maintenance. 
7. Blaming on Vehicle Maintenance
Finally, they blame us for not maintaining the vehicles properly. Drivers simply play the blame game of poor vehicle services by providing low mileage.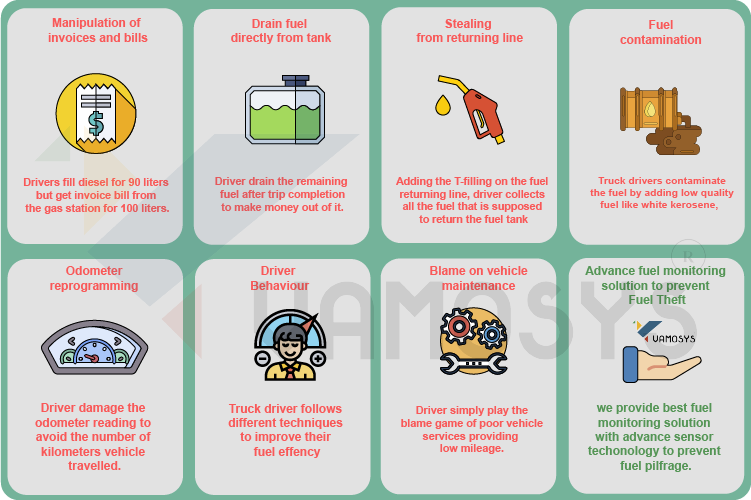 5.2 How to Suspect Diesel/Petrol Theft is Happening?
A company can identify drivers who should be trained to improve their skills. As a result, it allows minimizing fuel consumption.
Uncovering missing fuel in the truck becomes a challenging task for every fleet manager. It is not easy to notice that diesel theft is occurring in your organization. Without noticing how theft is happening, how will you take preventive measures or control diesel/petrol theft? 
Suspecting at all times may drive you badly, but making sure everything happens fine brings benefits. How to suspect or how to make sure things are smooth when it comes to fuel theft. 
Suspect inappropriate usage of vehicles. 

Sudden damages on the odometer.

Damages on fuel tank lock and siphoning fuel 

Damages on fuel cable.

If you see any drill holes on the fuel tank, stop and suspect. 

Do surveys frequently in your organization. Check trip activities, calculate traveled distance, vehicle capacity, and mileage.
5.3 How to Stop Diesel Theft
You should not be lethargic when it comes to fuel theft. We know how fuel theft will harm our business profits. Follow "Prevention is better than cure," How to reduce or control diesel and petrol theft? 
1. Educate your Driver about Fuel Policy system
Make sure your company has a detailed policy on fuel and drivers are aware of it. Educate your drivers frequently. 
Why does a company fleet have a trucker fuel policy?
Fuel policy lays a clear expectation of the company, what a company expects from a driver, how to use fuel, and how a driver should handle a truck when it comes to fuel.

Educate your driver, what consequence happens to him if he is involved in any fuel fraud or theft activities inside a company. 
2. Have Transparency on the Complete Trip and Fuel Purchase
Make use of fuel cards, which helps your driver to be transparent on the fuel purchase. These fuel cards are not only used for diesel and petrol payments. They are used to also pay for vehicle maintenance and certain vehicle expenses.
These fuel cards maintain transparency between driver and fleet manager on the vehicle-related purchase; it reduces fuel frauds and thefts by drivers.
3. Vehicle Tracking and Route Optimization
Route optimization helps you to lay the shortest and safest vehicle route to travel. Using a vehicle tracking system, you can track your vehicle location and make sure the vehicle travels in the correct route, which you gave. Also, it collects the data in the software, where you can calculate how much distance your vehicle traveled and how much fuel consumption happened by which you can save or avoid fuel theft.
4. Monitor your Driver Behavior
Data has many uses, also monitoring driver behavior has many benefits. You know what are the techniques followed by the driver in the fuel theft, notice their behavior if you find anything suspicious, check their fuel efficiency, and take the remedial steps.
Reward your driver, what's this? Why do you need to reward your drivers? This is where everyone makes mistakes. A fleet manager or fleet owner should always recognize and reward your drivers for any best work if they did in the field. For example, If a driver saves 2 liters on a trip and returns it to you, please reward your driver. It makes him refuse to be involved in any fuel frauds in the future.
6. Provide a Decent Salary
Providing a decent and correct salary to your drivers will make them happy. So, they won't be involved in any theft activities.  
7. Fuel Monitoring System: Diesel Tank Anti Theft Device
Here comes our hero, make use of fuel sensors—a perfect solution for fuel theft. The fuel monitoring system helps you to analyze the mileage of the vehicle, saving your fuel cost. Also, by using Fuel sensors, you will get regular alert notifications via SMS or  Email if any actions are performed in the fuel tank monitoring system. 
6. Why Fuel Monitoring System? Why Logistics Operators/Owners Installing Fuel Sensor?
Here is a poll that we conducted, it describes fleet managers who are worried about fuel theft.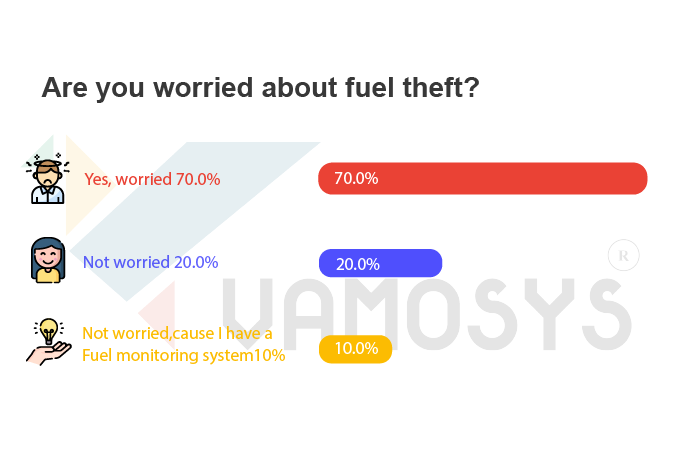 Here, we are happy to know 10% of them use fuel monitoring systems to avoid fuel fraud and theft, but 70% don't know that there is an option called fuel monitoring system. 
Rather than me, here is an interview video where a logistics owner says why he installed a fuel monitoring system in his trucks.  
The owner and the transport head of Gopi transport say that they could not give importance to the fuel theft between their busy schedules. The main reason to install the fuel monitoring system in their trucks is to avoid Fuel theft and want to know their complete profit/loss analysis. 
What are the incidents that made them install fuel monitoring solutions?   
Here the Gopi transport owner, Mr.Gopi, says they had good business in the market, but they neglected 30-40 liters of fuel theft in a trip earlier. But when the market got impacted by the COVID-19 situation, they were forced to change the aspect to run their business successfully.
Everyone wants that, right? Everyone wants to be successful in their business. We hope you can connect this with your situation. 
This situation made them successful in their business. After the COVID impact, they installed fuel sensors from VAMOSYS; not only are they preventing fuel fraud, they are also maintaining the vehicle by knowing the fuel consumption and monthly reports. 
Let's see what all the uses are there connected with the fuel monitoring system.
6.1 Uses of the Fuel Monitoring System
1. Diesel Theft Protection
After installing a fuel sensor, you can notice the level of fuel in the fuel tank if any sudden decrease or increase in the fuel tank can be detected.
2. Sensors for Dual Fuel Tank Vehicles
Fuel monitoring sensors are also available for dual fuel tank vehicles.
3. Reduce Operational Cost
Fuel cost is always a fear factor when it comes to operational expenditure, profit, and cost-effectiveness; fuel monitoring systems become a necessary part of increasing fuel efficiency.
4. Get Fuel Report
Fuel monitoring systems help you prevent fuel theft. Still, they also help maintain the vehicle by knowing the fuel consumption in previous trips, which vehicle gave good mileage, drop and rise in fuel efficiency in the fuel reports.
5. Get Alerted on Fuel Fills and Drain.
Fuel level sensors will generate alerts if any activities are performed in the fuel tank; either it alerts when refilling or draining. These alerts are sent via E-mail or SMS.
6. Alert Notification with Location
If any fuel fraud or refilling activities are done on fuel tanks, they will be alerted of the location.
The fuel monitoring system will enable you to reduce your operational costs and increase your fuel efficiency. This benefits a lot of the business.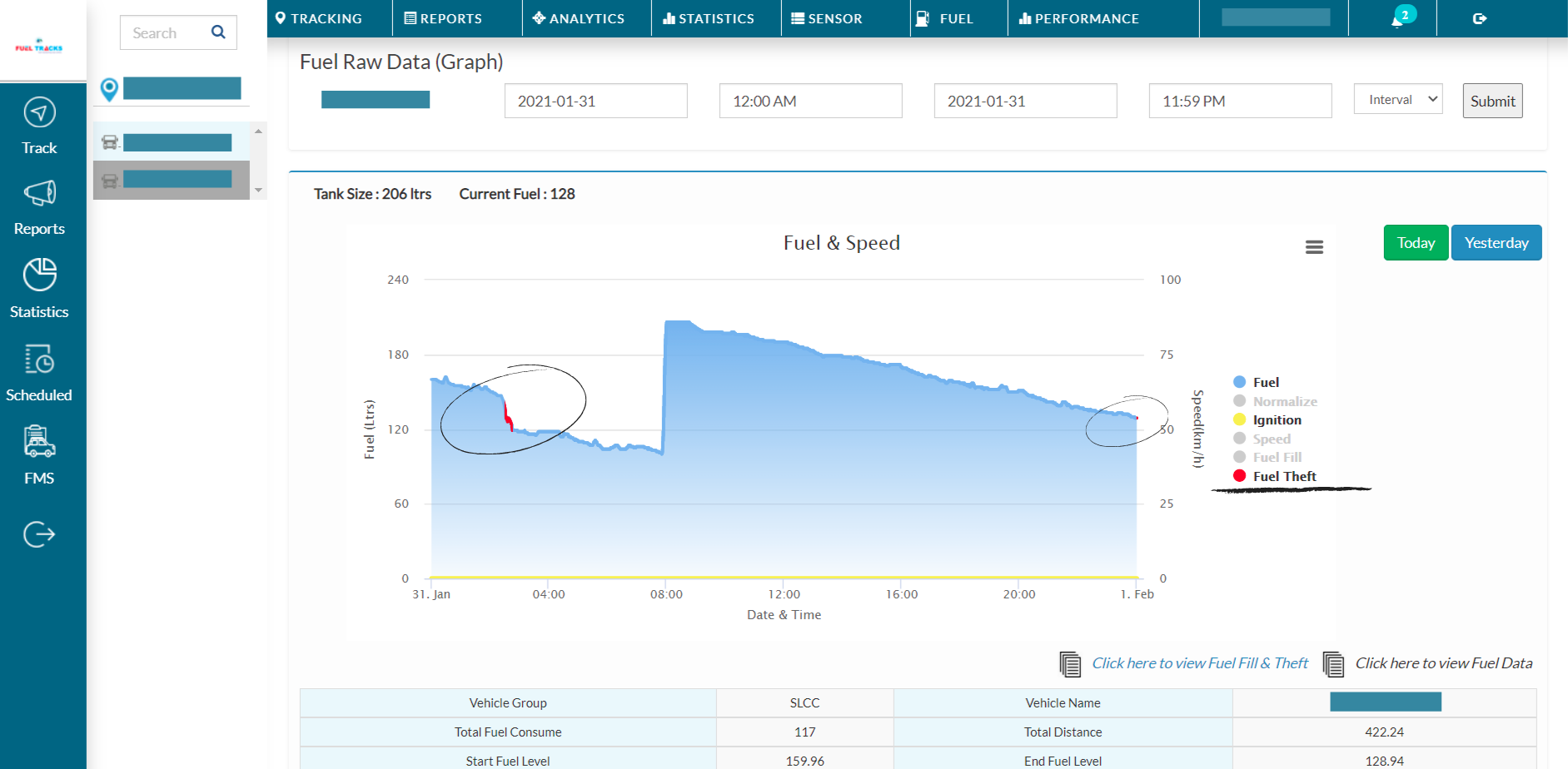 Here is how a fuel monitoring system works. This is an original stat of running fuel theft.  
7. Types of Sensor: About Fuel Sensors
In the market to monitor fuel consumption, different sensor technologies are available. These can be broadly classified into 
Resistive Fuel Sensor

Capacitive Fuel Sensor

Ultrasonic Fuel Sensor
In the resistive fuel sensor technology, it has some drawbacks like prone to fire, and the accuracy level of the sensor is very low. 
In the same way, the ultrasonic sensor is cheaper in the market, but when it comes to data capture, the sensor performance is very poor. This is proven by the detailed study conducted on one of the Vamosys clients.
The best fuel sensor technology is the Russian Capacitive fuel sensor because the data captured are precise, and the results provided by this sensor are yielding good results to the clients who are proven ones.
8. Why Vamosys. How VAMOSYS (Diesel Tank Anti Theft Device) Fuel Sensor is best in the market?
Vamosys provides Italon fuel sensors to the customers, which is based on Russian Technology. Why the Italon Fuel Sensor? It provides precise results, your data will be captured and processed in a secure server.
On installing our Fuel Sensor, our customers save more than 30% of revenue on fuel, Our customers also think Fuel sensors are the perfect solution to prevent fuel Theft, Diesel Tank Drain, and make profits with fuel data insights. Whether the vehicle's engine is in on or off state, sudden deduction of fuel drop or fills alert notification sent to the concerned person via e-mail and SMS.
Vamosys provides fuel sensors for dual fuel tank vehicles and proven with 99.5% fuel level accuracy. Fortunately, we also have fuel monitoring system software for both Android and iOS Mobile.