Resolving Communication barrier between Fleet Managers and Drivers
This blog discusses the communication barrier between fleet managers and drivers in the logistics industry. It identifies the threats that arise due to communication barriers, such as trip mismanagement, asset damage, inappropriate driving, excess usage of fuel, and detouring of routes. The article suggests technological solutions, such as IoT and Saas technology, to manage multiple trips, monitor vehicle activities, implement driver monitoring systems, track fuel consumption, and optimize routes. These solutions can help fleet managers overcome communication barriers and improve communication with their drivers, leading to more efficient and successful fleet operations.
We all know communication is the most extensive connection to lead a successful business. No matter how you are and where you are from, the way you communicate will define who you are.
Similarly, in a fleet business, there won't be any practicality without skillful communication. Drivers are the key person for any logistics operations. His role is to deliver the consignment to the destined place as per the instructions of fleet managers.
We need to understand; the fleet trips may prolong up to 2 to 3 days to reach the destination and how the drivers are tackling the challenges without proper sleep. At the same time, fleet managers need to ensure their safety and the time of delivery.
Let's rewind to traditional logistics operations; the fleet manager's tasks were tedious and time-consuming as they had to do every fleet chores manually.
Choosing a professional & responsible driver

Maintaining their details and records in a file

Planning multiple trips and assigning drivers over a call

Having a conversation over a call about the driver whereabouts

Managing Paper bills and POD's for each trip

Calculating Fleet Expenses

Vehicle Maintenance Schedules on Whiteboards
The communication between a fleet manager and driver always takes place over a call. The driver calls fleet managers to clarify the goals to fall in the respective area for smooth operation, even for a single issue.
Imagine what happens if things were not adequately communicated to the drivers? There is no doubt about the possibility of practical day-to-day fleet operations.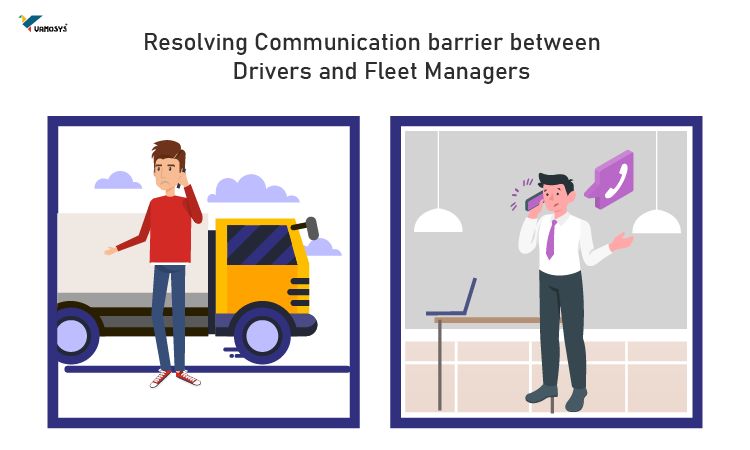 Threats that arise between fleet managers and drivers due to communication barrier
Let's see the barriers faced by the fleet managers and various solutions to overcome the obstacles. The factors that are discussed below are interlinked to each other and discuss how they can be resolved.
As a fleet manager, it's crucial to plan the loading & unloading locations, assign vehicle to the driver that are in good condition, and check vehicle status manually till the driver reaches the unloading point. Earlier, fleet managers make phone calls to their drivers to know the location status and drivers contact fleet managers when they face any problematic situation.  
Making lots of phone calls during the trip will create misunderstanding in what the tasks are conveyed. As a result, there are chances that journey gets extended with the fuel charges costing higher. In addition, if it is a perishable commodity that has not reached in a defined time, then the product loses its quality and pricing value.        
Question: Are there any possible solutions to manage multiple trips at the same time?
Carrying loads safely without damage to a specific location is an art, and only experienced drivers can achieve that. Therefore, road safety and safe driving are the major concerns for fleet managers; they must ensure the drivers are in safe condition without encountering any unexpected collisions that can damage the valuable and expensive assets resulting in a major loss. 
Here, the fleet managers have no clue what's happening in real-time and remain in an uncertain situation. As a result, if an unexpected obstacle arises during the road journey, the appropriate decisions can only rely on the driver's words.
Question:  Any device to monitor the vehicle activities for every trip?
As per the market survey, most truck drivers are unprofessional and unorganized. Through observation, they are not maintaining decorum when it comes to driving, activities like texting, idling for long hours, fuel theft, speeding, accelerating harder, damaging vehicles, fatigue could lead to fatal accidents, and a bad reputation on the company's name.
Unseemly driving results in higher maintenance costs facing vehicle downtime for a prolonged time, affecting the business without consistent operations.  
At the same time, fleet managers are displeased with the driving behaviours, and they don't have proper evidence to straighten things directly to them. Most fleet managers worried about a decrease in driver turnover that dramatically affects their business. 
Question: Do you have any Driver Monitoring systems?
Fueling your truck is such a large part of the total budget. Yet, the fleet manager is unaware of where the driver refuels the vehicle, how much fuel is consumed as per the miles traveled, and how long the vehicle has been idling with the fluctuating cost of the fuel.
Route planning and driver behaviour are also linked to fuel usage. For example, planning the shortest distance, identifying fewer traffic conditions, and restricting the drivers, not to Overspeed or giving harsh acceleration helps to reduce fuel usage. 
Question: How to get a detailed tracking report of fuel consumption? 
Taking a diverted route increases the fuel usage and takes longer time than expected to deliver the consignment. In the logistics business transporting the goods at an accurate time satisfies the clients and customers.
Drivers take charge of changing the routes without the consent of fleet managers. Does it really help? Fleet managers assign the routes based on the consignment fragility, condition of the roadways, calculation of toll charges, and vehicle condition. Even if the driver faces difficulty in the assigned route, he must let the managers know before making a decision; if not, there are high chances for asset theft and damages.
Question: Is there any software to optimize the routes? 
As we discussed the above factors and the answer for the questions to have the right solution to mitigate all the problems in the one go, technological advancement has evolved with the help of Digitalisation.
Every fleet operation is made possible through Digitalisation. Being a fleet manager, all you have to do is use a smartphone to handle the operations through IoT and Saas technology. The driver is the biggest asset to a logistics business or any fleet business. As we discussed, major concerns are related to drivers and finding a proper way to communicate effectively to them without any hindrance.
Introducing advanced Telematics to the trucks will not be welcomed by drivers as they consider it may affect their privacy. But setting up telematics policies and explaining the benefits of how it saves them from unexpected moments and incentivizing the drivers to use telematics applications regularly with proper training will set the course of action. 
The idea of implementing communication in an application has streamed the fleet operations from start to end effectively. 
Vamosys FleetOS (Fleet management software) and DRS applications ironed out every aspect in one platform. FleetOs where the fleet managers 
Can assign multiple trips without making calls

Track every moment of Driver without GPS

Confirming price-fixing for fuel refill 

Incentivizing drivers for each successful operations in the app

Detailed trip reports for Fuel usage and Vehicle idling 

Automatic digital Expense calculation for each trip

 

Set reminders for Vehicle maintenance 
Vamosys DRS (Driver tracking software) is designed specifically for Drivers who will receive trip plans through FleetOS with exact location. The features are simple to understand and easy to use. 
Language Agnostic (there is no language barrier, drivers from any part of the world can use it without difficulty)

Can track driver's movement with exact location and positioning.
Why wait? Download and explore our available applications in the play store and app store for free of cost. And to know more about our services, chat with our team of experts.