CCTV or DASH CAMS – Choosing the Right Camera for Your Fleets
The blog discusses the evolution of CCTV and its use in various sectors for surveillance. While CCTV works well in stationary positions, it is not suitable for vehicles due to the shaky footage during bumpy rides and accidents. Instead, the blog suggests using dash cams with features such as remote video surveillance, GPS-based tracking, SOS alerts, and dangerous driving behavior analysis for better fleet management. Dash cams also provide clearer footage for legal claims and protection against intentional collisions.
The invention of cameras impacted the world in various ways; the video camera is used to film live visuals and allows us to see the visuals of different incidents. For example, it is used to telecast news, disaster events, advertising, and many more. 
As the technology evolved, the demand for live video visuals mushroomed over the years. It started to gain its recognition in various business sectors, highly confidential areas, and military regions for surveillance which is where CCTV comes into play.
The need for real-time visuals was all started in Germany in 1942 to observe the launch of rockets during the war. Later, it slowly began to spread across different regions for commercial purposes. The technological advancement in CCTV has set its path in crime detection in public areas and streets. Within a short span of time, CCTV gained its popularity in identifying theft and robbery incidents in which many financial institutions started to use CCTVs for Security monitoring.  
In case, now if you're sitting in a public place or travelling in the metro, there is a strong chance a CCTV camera is monitoring you. 
"Modest cameras are being transformed into crime-fighting machines."
According to the Forbes list, the Indian city Delhi has ranked top among other countries by installing CCTV cameras based on certain square miles. It has dramatically reduced the crime rates, helped correct law and order, saved many innocent lives from kidnapping, prevented accidents, and controlled vandalism. After the 9/11 New York attack, CCTV cameras are used as the key resource to battle against terrorism, and the usage of surveillance cameras expanded worldwide
Is Implementing CCTV in Vehicles a good option?
We VAMOSYS know the exact pain points of Fleet owners & Logistics operators while running fleet operations. Earlier, operating a business with vehicles wasn't easy, so that digitized Fleet Management System came as a rescue. 
Tracking individual vehicle locations took so many voice calls; for that, GPS tracking and SIM tracking provided solutions to know every movement of the fleets. 
With the advancement of Telematics technology, all the manual operations involved in the fleet business got reduced through fleet management software. 
We have heard many collision or accident incidents in the fleet business; in most cases, the blame will be on the drivers who drive big vehicles or heavy-duty vehicles even though it was the opponent's mistake. The compensation amount to the opponent will be huge, and reports say that the large fleet companies face three or more collisions per week. 
For a solution, fleet owners insist on observing real-time visuals and recording the visual records to prove the driver's innocence. The other main reason behind the implementation of CCTV in vehicles popped up because it provides evidence for legal terms and protects their consignment from thefts.
Is it a good idea to install CCTV in Vehicles?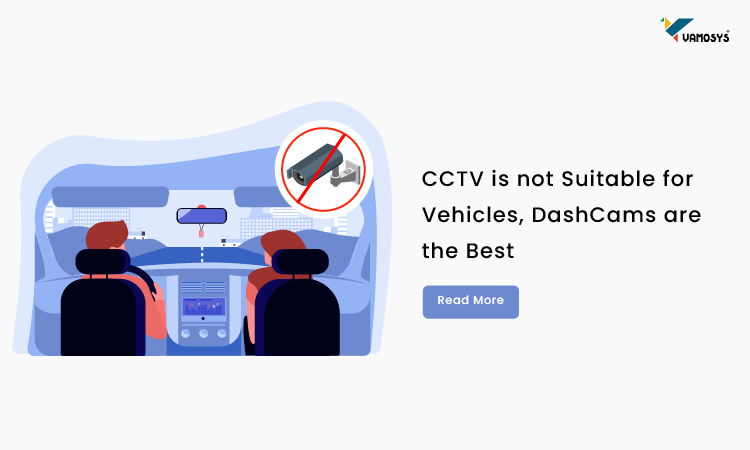 Let's dive into the facts where CCTVs are used. We have seen it in Offices, Educational Institutions, public places like parks, roads, streets, and other financial institutions. The places where CCTVs installed are immobilized and fixed in a stationary position. 
The CCTVs work best in a stationary position with exact clarity and output. It projects the visuals without compromising in a fixed place. Will it provide the same results while moving??
Let's get a clear idea with scenarios.
Scenario 1: Experience during Bumpy Ride
Here, the CCTV will be fixed on the front side of the driver's cabin, and when the vehicle goes for a bumpy ride, the camera shakes along with the vehicle. So that the video from that shaky camera will be blurred, and you can't see the clear visibility from that video footage. 
Scenario 2: Experience during Accidents
Everyone relies on proper video proof for accidents; the CCTV doesn't deliver the desired output to face legal claims. Furthermore, the video will not be transparent when it is in motion, and no authorities will not accept the video, which is hazy.  
When our Co-founder Mani Raj was at a business meeting, he met one of VAMOSYS dealers, where he shared his unfortunate experience of installing CCTV cameras to a customer. 
The customer needed cameras to install in vehicles with cost-effectiveness. Without doing proper research, the dealer suggested CCTVs as an excellent option. He placed 100 CCTVs with 100 Dongles(to provide WiFi connection to record the footage in the cloud) for 100 vehicles. After a few days, the customer was not satisfied with the video quality and asked for a better option. 
Then Our Co-founder Mani Raj explained about DashCams with its features and how it functions in vehicles. He also showed a live DashCam demo and its working operations to the dealer. Finally, our founder gave a wonderful explanation for CCTV. "If you mount a mirror in the dashboard, can you see your face clearly when the vehicle is in motion? CCTV is like a mirror; it shakes while it's in motion."
Those who have experience in implementing CCTV in vehicles can understand the actual value of DashCam because the CCTV providers in vehicles would have faced regrettable situations with their customers after executing it in vehicles.
Let's discuss how DashCam will be a better option.
The main features of DashCams are,
Remote video surveillance

GPS-based positioning and tracking

SOS alert

Dangerous driving behavior analysis

DMS-based driver fatigue pre-warning (optional)

Dual-channel simultaneous and loop video recording

Remote pictures and videos obtainment

Auto upload of event videos

Real-time remote monitoring

Viewing and playback of history footages

Remote fuel/power cutoff
1.Intentional Crash for Cash
Intentional collisions against fleet vehicles have become more common, and many accidents occur without the driver's awareness because they are driving vehicles with big logistics businesses, which are always insured. 
After the collision, as a natural tendency, the drivers will fight back defending their driving, but they won't fight enough like their owners. When they seem to be at blame, they may accept responsibility and the insurance company handles the rest. 
Here, it is why HD cameras will come to the rescue; the DashCams will capture high-quality videos with high-resolution features. As a result, it picks up more information when it records. Then it will be a valid video incidence to make things simpler. In addition, HD video captures number plates and other information to prove the driver's innocence in the collision event. 
It is best known as a dual-lens camera; the front-facing HD camera is used for real-time recording, while the cabin-view camera with IR LED for monitoring at night time. This is ideal for fleet managers who want to keep track of their drivers.
Inbuilt GPS with vehicle camera can determine the specific location of the vehicle and pace of movement. When GPS information is coupled with camera footage, it gives a complete picture of the events. In that case, CCTVs don't have inbuilt GPS features to provide accurate results.
Dash Cams will record until the memory card is full, and after that, it will begin to record fresh over the old ones. Here, the unwanted videos don't take up memory space allowing the camera to record for a longer period of time without erasing the old data. Furthermore, if an incident happens, which many cameras will detect using built-in G-sensors, the video file created at the time will be frozen instantly, preventing the loop recording process from overwriting it.
If a collision event occurs, the alerts will be updated in the alerts list in the application platform so that a fleet manager can pay attention quickly as soon as possible.
6.G-sensor for Emergency Recording
G-sensors track your vehicle's movement on three axes. This data can not only assist in creating a picture of what happened in the event of an accident, but it can also cause your vehicle camera to react properly. Most cameras will detect considerable movement and instantly lock the video file that is being recorded at the moment, ensuring that important footage is protected. While this is a beneficial feature that protects against actual accidents like vehicle wrecks and collisions, severe braking, and swerving, it may be activated by potholes, speed bumps, and other problems. Most cameras with a G-sensor, on the other hand, allow you to adjust the sensitivity to avoid this problem. 
From the above-discussed factors, now you can understand CCTVs don't have these features. The importance of video footage in vehicles needs to fulfill specific criteria to function effectively to ripe the benefits of having a vehicle camera. Dashcams are 4G telematics designed especially for video telematics which gives complete control of all your fleet operations in your hand. Only Dashcam can fill the requirements in all aspects to secure and protect your fleets from unwanted problems that can cost money and life.