CONFUSED?? WHETHER TO BUY OR LEASE TRUCKS
The decision to lease or buy trucks for a fleet business depends on various factors, such as the type of cargo, cost factors, business demands, and tax consequences. Leasing offers flexible terms, reduced monthly payments, and easy disposal of vehicles, while buying provides ownership and equity. Leasing is also cost-effective, requires less maintenance cost, and provides the opportunity to upgrade to new models, while buying requires a significant investment and involves responsibility for maintenance and repairs. A business plan is crucial for entrepreneurs as it helps to define goals, strategies, and potential challenges, and provides a roadmap for the future success of the business.
Should I lease or buy trucks for my fleet business?
Which is the best option? 
Leasing and Buying both have advantages, but it is purely based on your business needs and financial status and includes some important aspects. Some fleet companies combine the two alternatives to serve their clients by maximizing their operations. Deciding whether to buy or lease is influenced by factors such as 
Demands of your business

The type of cargo you are going to transport.

Seasonality in predicting truck costs.

Truck types and Configurations.

Cost Factors

For how long do you intend to keep the truck?

What are the tax consequences?
Vamosys can assist you in deciding what is best for your business. This blog will explain in detail different parameters in deciding the options to consider.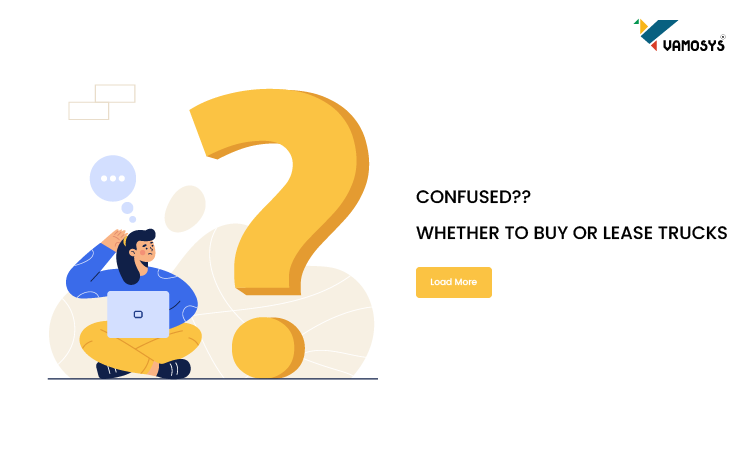 1.Analyzing Different Parameters
PARAMETERS

LEASING

BUYING

Payment type

Pay for the section that you actually use in the truck.

Reduced purchase cost

Lower monthly payments

The monthly payment is based on the market depreciation of the truck

Vehicle Acquisition costs are lower.

Pay for the entire truck to own

Initial Down Payment for the truck and rest is either by loan or financing.

Higher monthly payments

Monthly payments are not linked to market depreciation

Requires significant amounts to acquire vehicles.

Terms

Flexible Lease Agreements

Purchase Terms That Aren't Flexible

Expenditure

Flexible in Cash flow

More cash inflows in 

budgeting and forecasting

Worn out vehicles

Has Capacity to change as per the size of the truck and easy to dispose of vehicles.

Trucks that have been under-utilized are kept for longer periods of time and can be difficult to dispose of. 

Selection 

Not independent to select vehicles

Independent to choose different vehicles

Cost Effective

Easy to change vehicles and upgrade to new models

Difficult to change vehicles as it has huge investment

Repair Cost

Less responsibility to take care for maintenance and repairs

Owner is responsible for entire problems associated with vehicle
2.Leasing vs. Buying in Financial terms
Leasing
The excellent part of leasing is that you don't have to worry about ownership issues. At the end of the lease period, you are expected to return the truck, or you may have the option to buy the truck at the market value. 
Different types of Lease Agreements:
1.Open-End Lease:
Once the term has been fixed for a shorter duration and when it expires, then you can extend it on a month-on-month basis. The person who made the lease payments at the end of lease expiry would buy the leased truck taking the risk that the value of the truck depreciates more than expected. 
2.Closed-End Lease
The lease agreement will be fixed for several months, and it is also called the walk-away lease as they don't require the lessee(the one who made the lease payment) to purchase the truck at the end of the term.
You can avail of 100 percent tax benefits of your lease payments by showing your income statement by operating lease trucks. In addition, in the case of a capital lease, you can claim depreciation and deduct interest expense from your lease payments.
Buying:
When you purchase a truck, the person is considered to have an asset on his bucket list as he can sell at any time and has a guarantee of ownership. Therefore, each month's payment adds to the vehicle's equity. Furthermore, after the vehicle has been paid off, the driver is free to operate it eternally without making any monthly payments. You are no longer bound to any legal contracts.
Lease

Owner

Some heavy duty trucks are subjected to frequent maintenance and repairs. But most of the leased vehicles on the roads are newer models with advanced features. So, it requires less maintenance cost. 




In case of lease, the agreements  are set for a certain time limit. So that the vehicles will be changed in a shorter duration.

If you buy your fleet, you are responsible for vehicle upkeep, which can take up a lot of time and money. 




However, you will not be bound by stringent maintenance or repair timetables, and you may have more options when it comes to where you take your vehicle for service and have less possibility to change your truck.
Leasing
Based on the lease period, whether it is up to 5 or 7years, most lease owners will upgrade to a newer version of trucks. This is the best advantage while leasing a vehicle so that you need not rely on old vehicles and stay on the road for long. 
Purchasing
When you own a vehicle, the vehicle gets outdated and misses out on the latest innovations in features like enhanced communication, better navigation, and advanced safety. And over time, you need to spend time and money restoring trucks every time they undergo downtime. 
Leasing
When you do leasing, you can rely on your fleet management partner and get benefits of a variety of services that includes 
Driver Safety Training 

Optimization of the Analytics and Reporting Lifecycle

Analysis of Total Cost of Ownership

Supporting your needs with Fleet Remarketing Driver
They'll be responsible for tracking the lifecycle of your fleet and providing support.
Owners
You are responsible for all fleet data analysis if you do not have a fleet management partner. To keep your fleet functioning, you'll also need to maintain track of your inventory, combine invoices and prices, find insurance and other services on your own. 
NOTE:
To ease your work and to manage trucks, you can use fleet management software to digitize your work and track your vehicles every time.
On average, 60 percent of a company's overall fleet operating budget is spent on this expense, making it critical to keep fleet budgets under check.
Fuel management programs are available to help you save money and better track your company's fuel use, whether you lease or buy your vehicles.
Leasing
When you work with a fleet management business, you can be confident that you will always receive vehicle discounts and incentives. In addition, these companies have established relationships with automobile manufacturers, resulting in volume savings and negotiated services that save you time and money.
Buying
When purchasing vehicles for your fleet, working directly with a dealer can almost always result in discounts and incentives. These, on the other hand, may be scarce and inconvenient if you need to obtain vehicles immediately.
Fleets appear to be migrating away from vehicle ownership and towards leasing. According to the National Private Truck Council (NPTC) Benchmarking Survey Report 2020, private fleets appear to be the situation.
Whether you're a private fleet or a for-hire operator, leasing may be a smart option for you. Vehicle technology is rapidly evolving, and leasing allows companies to operate newer, more fuel-efficient equipment and equipped with more safety features. In addition, full-service leasing relieves the fleet of a load of vehicle maintenance and repair.