Driver Retention: How to Reduce Driver Turnover?
The blog discusses the challenges faced by fleet managers in retaining drivers, the reasons behind driver turnover, and how to reduce it. It suggests focusing on consistent payment, safety training, and communication with drivers, as well as implementing incentive programs to recognize and reward good performance. The use of telematics and Fleet Dash Cam for safety and monitoring driver behavior is also recommended. Vamosys FleetOS and DRS platforms are recommended for effective fleet management and incentivizing drivers.
For over the past 20 years, "Driver Shortage" and "Driver Retention" have been major challenges faced by fleet managers. Driver turnover has been a hot topic in the fleet management sector. Due to high turnover rates, the sectors started to face driver scarcity, and fleet managers are facing difficulty finding trustworthy and experienced drivers. 
Do you know the reason for the decrease in Driver Turnover?
The two main primary factors that concern drivers and make them leave the company 
1.Company Management and their stringent rule that makes it uncomfortable for drivers 
The reasons for their job dissatisfaction are due to low levels of trust and ineffective information regarding their trips, poor working conditions, and impossible to meet schedules.
2.Mistreatment and not respected by the Owners
 As per the survey, Drivers feel that the truck company owners are not treating them with respect, not paying them in time, and did not feel heard or recognized for their performance. 
The COVID 19 pandemic has also been one of the concerns influencing truck drivers to remain in the company for a long duration. To boost your driver commitment, compensation is essential to lower the incidence of driver turnover. In today's scenario, the fleet managers and owners expect Commitment and Retention from the Driver, and the Driver's viewpoint predicts satisfaction from the job. 
A driver's important factor is to feel valued and respected and needs to establish effective communication and listening. This might be the factor of the Driver being content in their current position and seeking a new one. 
Let us discuss some suggestions to assist firms to decrease truck drivers turnover in the trucking and transportation sectors. 
Key areas to focus on to reduce Driver Turnover
1.Consistent Payment
2.Safety Training 
3.Teaching Telematics to use for their security purpose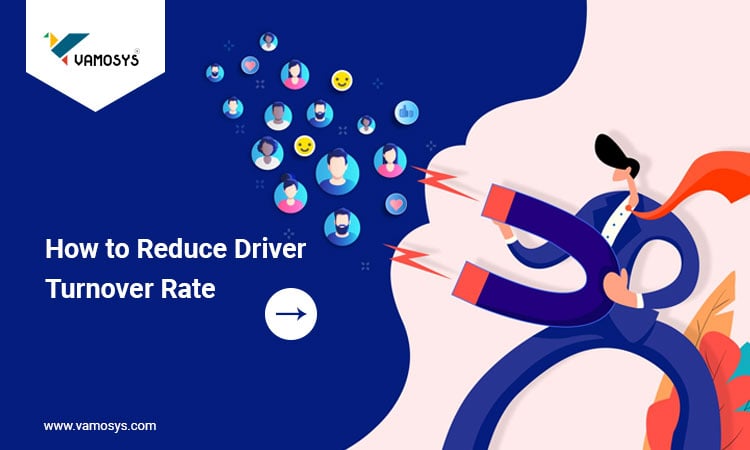 Driving is considered the most challenging job compared to all other jobs. They sacrifice their sleep to deliver the goods or consignment from nooks and corners around the world. The lack of sleep takes a toll on their health as well. So there is no wonder they would be tired and sometimes distracted during their travels. 
Fleet safety plays a significant role when it comes to Driver retention, and the financial costs involved in the business are high. The risk mitigation for fleet drivers includes Inspections, Injury reduction, accident prevention, and DOT compliance. 
Life is precious, and business is important as well. In unavoidable circumstances, we need to rely upon to save either one. But in today's world, we can save both by integrating telematics devices like Fleet Dash Cam to monitor the driver behaviour and also can keep an eye on the valuable consignment. Fleet Dash Cam provides real-time visuals of the Driver and the vehicle as well. Adopting a Fleet Dash Cam won't cost much more than losing a business and life.
2.Communication Importance
Setting up an open-door policy between fleet managers and the drivers adds value to establish a trustworthy relationship. Interacting with drivers, listening to their concerns, and asking for feedback help understand the real problem and take action accordingly. Make sure drivers understand why you're asking for feedback and suggestions. So that you can plan, schedule the operations deliberately. 
Act openly with their concerns and bring some changes that are valid to increase driver retention. Until you make some positive changes and respond to their feedback, driver retention will not increase. Integrate a driver feedback review and consideration process into your management, planning, metrics, and payment systems. Assist in ensuring that the volume of input you get does not exceed your ability to comprehend and act on it in a timely manner. Make it clear who is in charge of translating driver input into strategic and policy improvements.
3.Incentive Programs for drivers
Some drivers need bonuses and while others need rewards. With improved driver safety and reduced accidents, implementing a good driver incentive plan can generate a significant positive return on investment, while greatly increasing your driver recruitment and retention rate.
Recognition and reward are important factors to boost your drivers for their achievements.
Why not reward your drivers through incentives for each fleet operation they complete?
Incentivizing helps them to get engaged with their work and stay motivated to complete the task eventually. In addition, it stimulates them to give better performance for more rewards.
In order to hire and retain excellent drivers, popular fleets use their data-driven compensation plan as a differentiating factor. They are not based on a one-time security bonus plan. Instead, they cultivate and retain excellent drivers by using monthly or quarterly driving performance, safety, fuel efficiency, and other related factors based on detailed data.
Rewarding drivers should not be focused only on the miles they drive as it could lead to driver fatigue and become unhealthy. Instead, the program could focus on fuel usage, overspeeding, mileage reports, and reducing the downtime of the vehicle.
The Metric should concentrate on Safety, Driving Efficiency, fuel usage, and metrics designed to improve performance, affect behaviour, and, eventually, produce better results.
What are the benefits of providing reward points for your drivers?
Commitment to the safe driving

Increase in Productivity

No smartphone distracted driving

Reduces fuel cost

Non-stop trips without vehicle downtime

Your Driver's don't endanger your company's reputation
So, why not take a look at Vamosys FleetOS and DRS platforms to grow and manage your fleet effectively by rewarding your drivers to maximize their performance?
The incentive program is specially designed for drivers, and fleet owners can give rewards to drivers as per the Driver's performance. It totally depends on the fleet manager what amount he wants and set points in the app accordingly. This application is applicable only when the Driver is using a smartphone with DRS mobile application installed.
The Driver will update the status of the operations to fleet owners through the DRS app. The owner can encourage him by giving him the rewards (points) as per his performance. Fleet Owners can keep complete track of these activities through the fleetos web app/mobile app.